Free delivery and get 10% off with code NOV23 on all e-Commerce orders above £10 (excl. VAT)
Only valid until 30th November at midnight.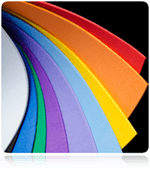 Here within our coloured A4 card range, we hold a spectrum of colour to help you breathe life into your latest creative project and fight off the greyness all around us, bringing your communications to life. This range of coloured card A4 varies from the gentlest pastel shades through to the deepest of colours, all suitable for inkjet and laser printing. Plus, they are all perfect for embossing and foil blocking. The full range is FSC certified and produced from sustainable forest products. Some colours within this range are available in A3; please see other categories.